H Beam&I beam
Views:0 Author:Site Editor Publish Time: 2019-09-12 Origin:Site
H Beam&I beam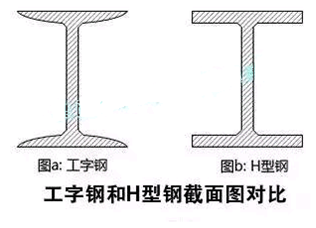 I-beam is a kind of "work-shaped" section steel. The inner surface of the upper and lower flanges has an inclination of 1:6, which makes the flanges thin and thick inside. The cross section of the I-beam is subjected to straight pressure and is resistant to tension. However, the cross-sectional size is too narrow for the flap to be able to resist.
H-shaped steel is an economic section high-efficiency profile with more optimized cross-sectional area distribution and more reasonable weight-to-weight ratio. It is named because its section is the same as the English letter "H". The two outer sides of the H-section steel have no slope and are straight. This makes the welding of H-beams easier to operate than I-beams, and the mechanical properties per unit weight are better, which can save a lot of materials and construction time.
Description of the difference and use of H-beam and I-beam:
1. Because the cross-sectional dimensions of the I-shaped steel are relatively high and narrow, the moment of inertia of the two main sleeves of the cross-section is quite different, and can only be directly used for the members bent in the plane of the web or to form them. Construction force member.
2. H-beams are high-efficiency economical profiles. Due to the reasonable cross-sectional shape, they enable steel to perform at a higher level and improve the ability to undertake cutting. The flange of the H-section steel is widened and the inner and outer surfaces are generally parallel, making it easy to connect with high-strength bolts and other components.
3. The flanges of H-beams are of equal thickness, with rolling sections, and a combined section consisting of three plates welded. I-beams are rolled sections with a 1:10 slope inside the flange.
4. The rolling of H-beam is different from ordinary I-beam. Only one set of horizontal rolls is used. Because of its wide flange and no inclination (or small inclination), it is necessary to add a set of vertical rolls and roll simultaneously.
5. I-beam has a small side length and a high height, and can only withstand the force in one direction.
6. H-shaped steel groove is deep and thick, and can withstand forces in two directions.
7. I-beam can only be used for beams, and H-beam can be used for structural load-bearing columns.